There is a creek that can be found about a 1/4 or so of the way in from Lighthouse Road. Some years it cascades over the bluff edge creating a beautiful waterfall. Right now it is flowing into a crack in the bluff. The edge creates a nice little pond for Western gulls to take a bath.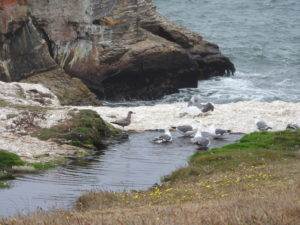 Here is a short clip of the wave action.
Rocks and waves off the Lands by Jeanne Jackson
A strange-looking twisty flower caught my eye. It's not the best photo, but it is Lady's Tresses, Spiranthes romanzoffiana, one of our native orchids. There are several others coming up to join this bluff orchid.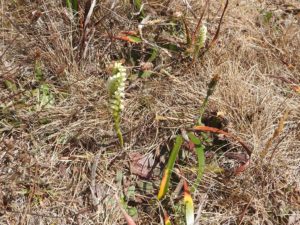 And a view of some of the dramatic rocks and bluffs at the Lands, with the Point Arena Lighthouse in the background.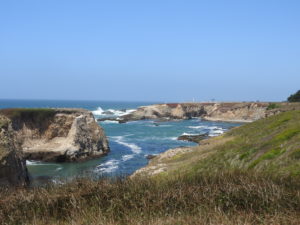 The Point Arena-Stornetta Lands are a Mendonoma Coast treasure!