We are proud of the Point Arena Lighthouse. It's 115 feet tall, gleaming white, a sentinel to the past when ships needed its light to guide their way. Craig Tooley took this photo from an airplane.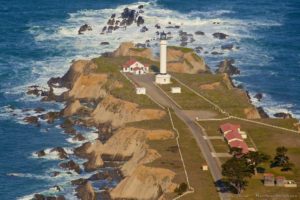 Coast photographers, and visiting photographers too, have had a long love affair with this beautiful spot. Judy Woudenberg captured this photo.
Here is information about the National Lighthouse Day this Sunday, August 7th. And it's free!
The Point Arena Lighthouse will celebrate National Lighthouse Day on Sunday, August 7 from 10 a.m. to 4:30 p.m.  All visitors will enjoy free admission to the Grounds, Museum and Tower Tours.  Wind, weather and emergencies permitting this great day will also feature the Berkeley Kite Wranglers flying their amazing kites over the grounds and a static display of a Coast Guard Rescue Helicopter!  Guests can also purchase award-winning clam chowder from the River Grill, and finish it off with Lighthouse Keepers Strawberry Shortcake and home baked brownies.  
More information is available by calling the Lighthouse at 877-725-4448 or 707-882-2809. And at: http://pointarenalighthouse.com/

The kites filling the air are wonderful to behold. Photos below taken by Margaret Lindgren.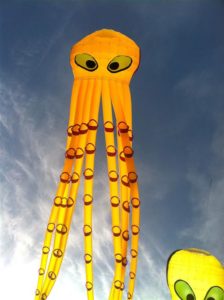 Thanks to Craig, Judy, and Margaret for allowing me to share their photos with you here.