Mark Simkins photographed the setting sun through trees near Manchester recently.  The sun looks huge!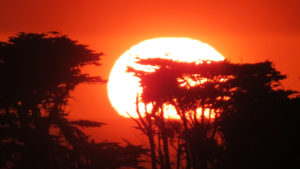 Seeing the sun set "into the ocean" is one of the privileges of being on the Mendonoma coast.
We've had a lot of fog since last Saturday. But the fog lifted this afternoon and blue skies are now the rule.
Thanks to Mark for allowing me to share his photo with you here.