Bob Hathaway photographed the scene. He wrote, "While out photographing a boring Western gull, I was treated to quite a show by a visiting River otter. Here is a photo of the two sharing a rock while the otter enjoys breakfast. The otter was harassed by two Ravens and a Turkey vulture looking for a free meal. All the while the gull minded his own business and never departed his post."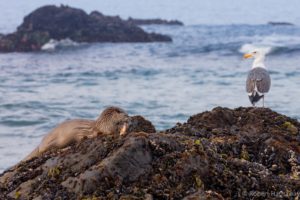 River otters can't abide pollution, so it's a testament to the clean waters of our rivers and the Pacific Ocean that they live here. Western gulls are also year round residents of the Mendonoma coast.
Thanks to Bob for allowing me to share his photo with you here.