One of the most photographed birds on the Mendonoma Coast, Great Blue Herons are beautiful to see. Laura Cover photographed one taking off from the bell tower of St. Paul's Methodist Church in Point Arena, a study in elegance.
Another fun photo of a GBH taking off was taken by Robert Scarola.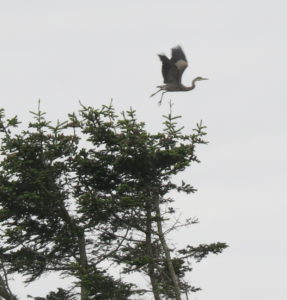 And one last photo of a Great Blue Heron taking flight, this one by Craig Tooley.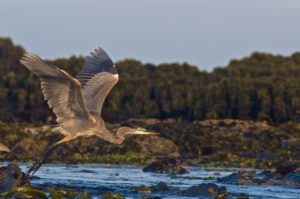 Great Blue Herons are year round residents of the Mendonoma Coast.
In all of these photos, it looks foggy. There is no fog on the coast today. It's warm with very little wind. Abalone divers were out this morning with the minus tide, and every pullout had vehicles. Hope everyone had a safe, successful dive.
Thanks to Laura, Robert, and Craig for allowing me to share their photos with you here. To see much more of Craig's nature photography, here is his website: www.ruffimage.com