Sunny, our golden retriever, doesn't mind the flooded path! Quinliven Creek was running fast and furious, as you will see below.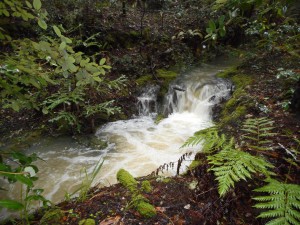 Lots of rain has pumped up our seasonal creeks, including the one that traverses our property in Anchor Bay. It's so exhilarating to walk alongside, breathing in the freshness and appreciating all the wonderful rain we are getting. Here is a short video of a part of the stream.
More rain for tomorrow, Sunday. Then we have a chance to dry out.