Craig Tooley was out with his camera and photographed some of the big waves that have been hitting the coast. The first two show the action at Hearn Gulch, which is found in Mendocino County at mile marker 10.0 just north of Iversen Road. As you can clearly see in the second photo, there is an impressive blowhole there.
And Craig captured big waves and a rainbow - just lovely to see.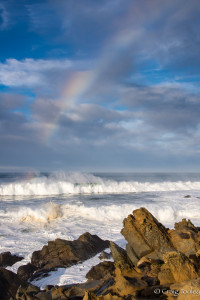 Thanks to Craig for allowing me to share his photos with you here. To see much more of Craig's nature photography, here is the link to his website: www.ruffimage.com
To learn more about Hearn Gulch, here is the link to the Redwood Coast Land Conservancy: http://www.rc-lc.org/ These fine folks have worked to bring us public access to Hearn Gulch, Cooks Beach and the Gualala Bluff Trail, and I, for one, am very grateful!