Clay Yale was standing by the Knipp-Stengle Barn on The Sea Ranch when he saw this scene.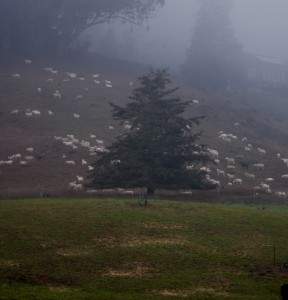 The flock of sheep and goats that keep the grasses down on the Ranch are dotting the hillside. A misty photo for you as we await yet another storm later tonight.
The Sea Ranch sheep have their own website. To find out where the flock is on TSR, here is their website: http://www.thesearanchsheep.com/
Thanks to Clay for allowing me to share his photo with you here.