I'll let Zak tell the story.
"A Red-shouldered Hawk alighted upon the very same spot on the Redwood where the Peregrine Falcon has been doing his courtship for the last two years. He was only too eager to primp and pose for these shots, trying his luck at the ladies."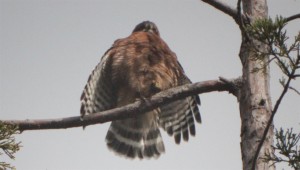 "The Peregrine Falcon returned a few days later, to claim his territory with the lady bird, as they bonded two years ago. The monogamous pair now returns every year around this time to do the dance."
It's always a treat to see a Peregrine Falcon and the beautiful hawk! Thanks to Zak for allowing me to share his photos with you here.