Though it's quite cold, there is a nice bloom of Boletus edulis along the Mendonoma Coast. Many foragers have been at Salt Point State Park where it is legal to forage as long as you only take five pounds a day. Catherine Miller found some of the first king boletes of the season on November 9th.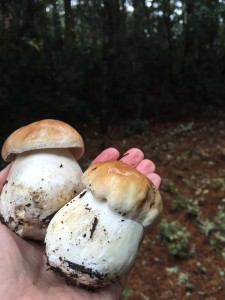 Rick and I had our first taste of the year this week, making a porcini omelet for breakfast yesterday. YUM!
David Arora says that, even with the cold weather (36 degrees at our house this morning), we should see more boletes, though not as many as we would get with more normal weather. He says the cold weather will keep them hard and free from bugs. I'll be looking for Queen boletes on our property soon.
Thanks to Catherine for allowing me to share her photo with you here.