A big, wet fogbank rolled in two weeks ago, dropped a lot of moisture, and then pulled back. When it pulled back, a beautiful, huge fogbow appeared just north of Fish Rocks. I rushed outside to take a few photos, as I knew it wouldn't last long.
Fogbows are also called white rainbows, but this one actually had some color to it. Not vibrant like a rainbow, but definitely there was color. At one point it arched all the way across sky, rainbow-like, but I couldn't capture it all with my camera. But it is stored in my memory.
Here is a photo of the first fogbow I had ever seen. It was much smaller than the one above.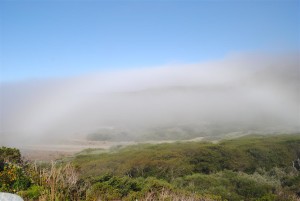 Fogbows are rare, so I was thrilled to see another one.