Amanda Stinson had just built this stone tower when this California Sister butterfly flitted down on her hand.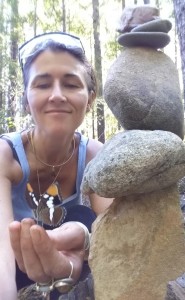 Just why was Amanda building a stone tower? I'll let her answer.
Amanda wrote, "When I caught wind of a 'balance for peace day,' with rock balancers from all over the world, I had to participate. When I finished, a California Sister appeared, fluttering around, made a balance on my fingers, and graciously posed for a picture. It seems butterflies like peace too."
Thanks to Amanda for allowing me to share her photo with you here.