We have a lovely bush growing against the house called abelia. It flowers for months. Bees love it, as do hummingbirds. And the Monarchs love it too. I saw a Monarch fly to it earlier today.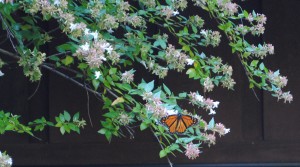 Monarchs are migrating through our area now, heading south. These are the long-lived generation, the Methusalah generation.
Here is a close-up of a Monarch, taken by Clay Yale.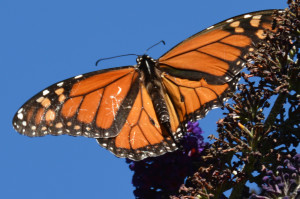 To track the migration of Monarchs, here is the link to Journey North: http://www.learner.org/jnorth/  This is a citizen science website where people like me and you can share our sightings. They track many creatures, including hummingbirds and gray whales. Join in the fun!
Thanks to Clay for allowing me to share his photo with you here.