Richard Kuehn recently photographed several species of shorebirds, including Whimbrels. This particular Whimbrel reminded Rich of "King of the Mountain."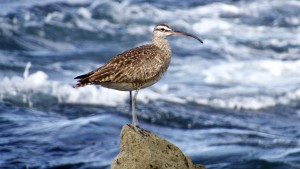 Whimbrels are large sandpipers and they eat insects. You can see the bill is curved downward. They nest far to our north in the Tundra.
To hear their twittering call, here is the link to the Cornell Lab of Ornithology: http://www.allaboutbirds.org/guide/Whimbrel/sounds
Thanks to Rich for allowing me to share his photo with you here.