Martin Steinpress noticed two Great Egrets out on the ocean surface. They were standing on kelp, feeding. It is an amazing sight to see.
Here is a photo of two Great Egrets taken by Bettye Winters. The one of the right has nabbed a fish. Great Egrets have yellow beaks and black legs.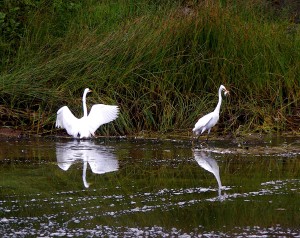 Thanks to Martin and Bettye for allowing me to share their photos with you here. We are having a heat wave here on the Mendonoma Coast today. Being near the water, like these Egrets, would be a good idea for today!