The inland heat has coaxed the fog in. Paul Kozal has the ability to see beauty and to photograph it so we can see it too. Here's a recent photo of Dune Drift Trail on The Sea Ranch.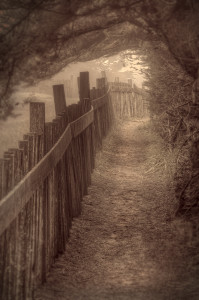 It makes me want to walk down that trail...
Thanks to Paul for allowing me to share it with you here. To see much more of Paul's nature photography, here is his website: http://www.paulkozal.com/ Some of Paul's photos are displayed in one of the dining rooms of the newly reopened Gualala Hotel  - yes, the Paul Kozal room!