Boletus edulis, also called King Boletes, Porcini or Cep, have responded to a good rain we received in April. They decided to pop up in all their glory. Justine Rosenthal found two big ones. They are deliciously edible.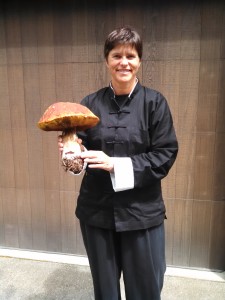 Justine was celebrating World Tai Chi day when she found this beauty. Janine Johnson photographed this happy mushroom forager.
If you are on the Coast, check your spots - more were found earlier this week. They normally fruit in the fall, after the first rains, usually in November and December. With climate change who knows what the new normal will be.
Thanks to Justine and Janine for allowing me to share this photo with you here.