Banana slugs often eat mushrooms in the forest. Bill Clark photographed one in the act.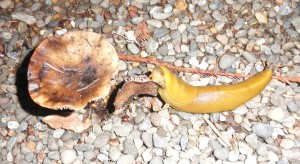 All sizes of Banana slugs are appearing now in the forest. We have to be careful where we step because we really, really, really do not want to step on one.
Thanks to Bill for allowing me to share his photo with you here.