It's that time of year, the time for Harbor Seal pups to be born on secluded beaches. If you ever needed a reason to keep your dog on a leash, this is it. Harbor Seal moms leave their newborns on the beach to fish for themselves. The pups do not need to be "rescued." I will be sharing some photos of newborns with you soon.
Robert Scarola caught a cute photo of several seals taking a nice snooze.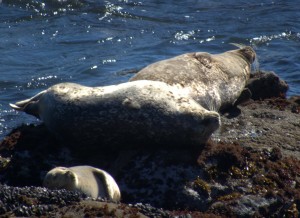 Robert said they inspired him to go home and take a nap!
Thanks to Robert for allowing me to share his photo with you here.