Robert Scarola took this photo of the Gualala River lagoon a week ago from Gualala Point Regional Park. The river has closed to the Pacific Ocean for another extended time due to the lack of rain. Since this photo the river is even higher in the lagoon.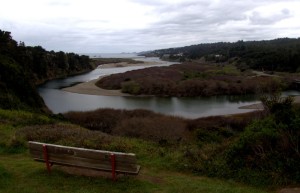 When the river is closed by the big sandbar, the mouth of the river is called a lagoon. When the river is open, it is an estuary. Robert's photo shows bushes beginning to bud.
On Saturday, March 21, at 9 am there will be fun, noncompetitive hike at this park. It's to benefit Meals on Wheels here on the Mendonoma Coast. It costs $30.00 a person. What do you get? A snack before the hike, a T-shirt, and lunch at the Gualala Community Center afterwards. Rick and I believe very strongly in the fine work Coastal Seniors does, and Meals on Wheels is a lifeline to people in need. We will be there Saturday with our hiking boots on. There are three different hikes, planned with the longest just a little over 3 miles. The shortest walk is only a mile.  Please join us if you are on the Coast!
To learn more about Coastal Seniors, here is their website: http://www.coastalseniors.org/
Thanks to Robert for allowing me to share his photo with you here.