I'll let Anne Mary Schaefer tell the story. She wrote,
"I was just feeding my wee beasties Friday evening when I heard her high hunting keening cry, and saw that the sun was about to set. I grabbed my camera and ran outside, scanning the western sky over Manchester State Beach campground. Nada.
"I was just about to go inside when she came swooping right over my head, turned on her wing, and the last sunlight hit her breast. She disappeared into a tree top, where a whole flock of little birds were quite indignant at being suddenly ousted."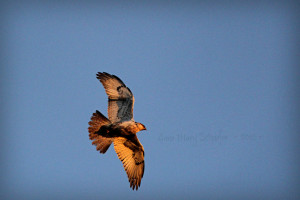 Isn't this a glorious photo? I thank Anne Mary for allowing me to share it with  you here.
To hear the calls of a Red-tailed Hawk, here is the link to the Cornell Lab of Ornithology: http://www.allaboutbirds.org/guide/Red-tailed_Hawk/sounds