A big sandbar once again closed the Gualala River to the Pacific Ocean for much of January. While the river opens and closes regularly during the winter with the tides, it is very unusual for it to close in the winter for weeks. I've recently posted photos of the full Gualala River. With the help from a big rainstorm, the river breached the sandbar on Friday, Feb. 6th around 4 pm and began to surge into the ocean. Mike Mee was there to see it happen.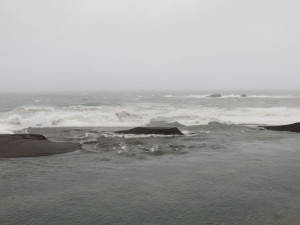 It is very exciting to watch this phenomenon as the pent-up river churns its way into the ocean. The sound alone is amazing.
We are waiting for yet another soaking storm. And while there have been many power outages, including us for two days, we are grateful for this bounty from Mother Nature.
Thanks to Mike for allowing me to share his photo with you here.