One of my favorite birds is the clown-faced Acorn Woodpecker. They often appear at our birdfeeder. Clay Yale and Siegfried Matull recently photographed two Acorn Woodpeckers. Both photos show a female. First here is Siegfried's photo.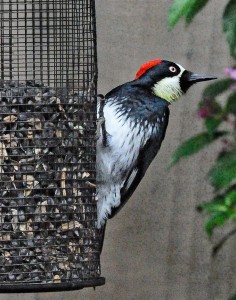 And next is Clay's photo.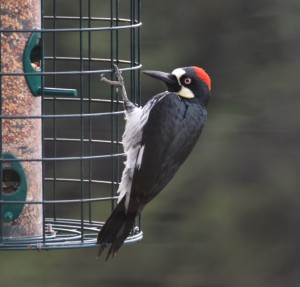 To show you the difference between a male and female Acorn Woodpecker, here is a photo taken by Jim Garlock. The female is on the right and the male is on the left. Note that the red on top of the male's head is bigger and there is no black between his white and red feathers on his face.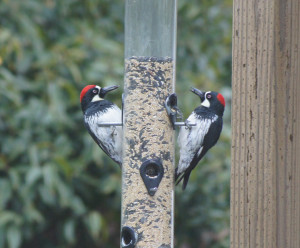 The sound of Acorns is quite distinctive. Some describe it as "waka waka." To hear for yourself, here's a link to the Cornell Lab of Ornithology: http://www.allaboutbirds.org/guide/acorn_woodpecker/sounds
Thanks to Siegfried, Clay and Jim for allowing me to share their photos with you here.