Our last storm brought us magnificent rainbows. Jim Alinder photographed this one, which stretched over the town of Gualala.
Jim took this photo from the front door of his gallery, Alinder Gallery. He then went to his back door, which overlooks the Gualala Bluff Trail, and took this photo - a very dramatic weather day!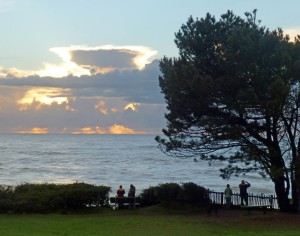 The morning of this rainbow Rick was driving down Highway One, just north of Gualala. He drove through a rainbow! Now, that's something that doesn't happen very often. We decided it meant good luck.
Thanks to Jim for allowing me to share his photo with you here. To learn more about Jim and Mary Alinder's gallery, here is the link to their website: http://www.alindergallery.com/