The southward-bound Gray Whale migration has begun earlier than usual this season. And, as we've been having clear-as-a-bell weather, it is easy to see their spouts. Peter Cracknell photographed a few Grays at sunset.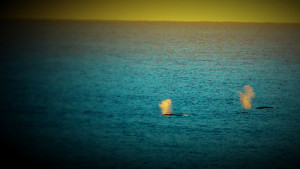 Thanks to Peter for allowing me to share his photo with you here.
I wish you the happiest of New Years and hope you will take the time to appreciate our natural world - it is filled with wonders.