We have had two sightings of Bald Eagles.  Randy Burke sent in this sighting from a week ago Sunday. He wrote, "Nathan Becker from Napa captured this Bald Eagle while hiking around the campgrounds of [Gualala Point Regional Park].  Nathan and his friend Xavier are active bird enthusiasts, and thought the photographic capture of the eagle to be a highlight of their day out."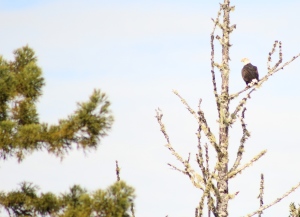 Nathan's photo shows an adult. Teresa Denniston spotted a juvenile near her home in Gualala.
We are hoping a mated pair will build a nest here on the Mendonoma Coast. The welcome mat is out!
Thanks to Nathan for allowing me to share his photo with you here.
A big storm is hitting the coast this afternoon. More rain is just what the doctor ordered!