This is the end of the mating season of our local Black-tailed Deer. Big Bucks migrate onto the Coast and fight over which Does will be in their harem. Glenn Funk photographed this handsome Buck in Anchor Bay - perhaps he needed a rest after chasing all his Does.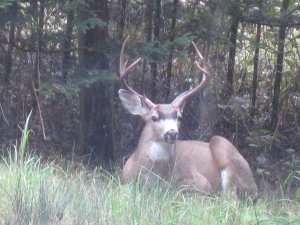 Clay Yale photographed this four-point Buck on The Sea Ranch.
The Bucks look healthy with their beautiful antlers.
Thanks to Glenn and Clay for allowing me to share their photos with you here.