It's the kind of day to step back from the bluffs, as big waves are hitting the Mendonoma Coast. Richard Hansen is fortunate to live where he can view Castle Rock, one of our many offshore rocks. This is what he photographed this morning.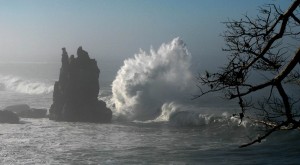 You can see the mist from the crashing waves is drifting through the air. We have no fog today and it's downright warm.
Thanks to Richard for allowing me to share his photo with you here.