Several Coast residents were treated to the sight of two dozen or so Dolphins obviously feeding, as they stayed for over three hours. Ken Bailey took this photo of what I think are Pacific White-sided Dolphins. However, Jodi Smith, of Naked Whale Research, looked at the photos and she says they are Risso's Dolphins. One can be seen breaching.
Joel Chaban got a photo of their dorsal fins, which you can see slope backward at the top.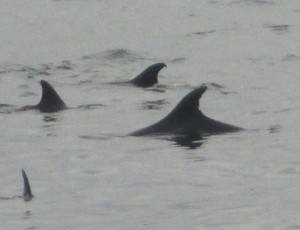 These Dolphins eat mostly squid and some medium-sized fish.  They are not as acrobatic as Pacific White-sided Dolphins but young Risso's Dolphins can be seen breaching, as in Ken's photo.
To learn more about whales, especially Killer Whales, here is the link to Jodi Smith's Naked Whale Research website: http://www.nakedwhaleresearch.org/
Thanks to Ken and Joel for allowing me to share their photos with you here. To see more of Ken's nature photography, here is his website: http://www.seadreams.org/