Cece Case was in her office at her home in Gualala  when she looked up and got the surprise of her life. An adult female Mountain Lion was looking through the window.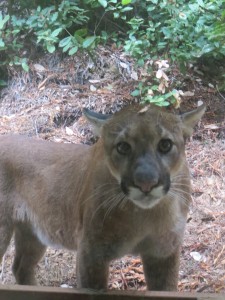 Cece does have cats and perhaps this big cat was looking for a tasty treat. Cece got another photo of the Cougar -  a look at her full body and tail. You can see it at the Independent Coast Observer's website at: www.mendonoma.com Click on Mendonoma Sightings photos to see it.
Thanks to Cece for allowing me to share her photo with you here.