Western Bluebirds nest in cavities so putting up the perfect size birdhouse might lure a pair to nest nearby your home. They are found near the bluffs here on the Coast. Susan and Jim Grenwelge have had Bluebirds coming to this beautiful birdhouse for several years.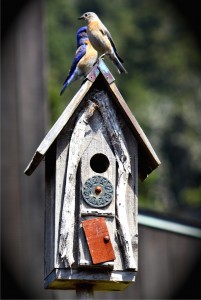 Small birds, a Western Bluebird weighs only about an ounce. They are charming to see. Bluebirds mostly eat insects, though they will eat fruit and seeds, along with insects in the wintertime. To hear their calls, here is the link to the Cornell Lab of Ornithology: http://www.allaboutbirds.org/guide/western_bluebird/sounds
Thanks to Susan for allowing me to share her photo with you here.