Paul Brewer has been photographing the northward migration of mother Gray Whales with their calves. They have really be putting on a show! This first photo was taken Wednesday, May 21st. A Gray Whale calf breaches - always a breathtaking moment.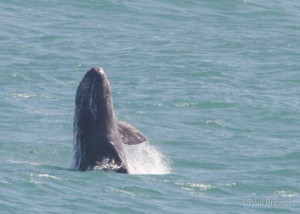 Several days earlier Paul took these photos.
In the photo above you can see the mother Gray Whale in the foreground with her calf breaching.
Many thanks to Paul for allowing me to share his spectacular photos with you here. To see much more of Paul's nature photography, here is his website: http://www.capturingnatureswonders.com/