Earth Day saw the last of a  recent series of small storms. The last one brought another beautiful rainbow, as vibrant as can be. Peggy Berryhill got this photo from Gualala Point Regional Park.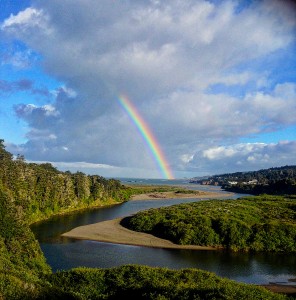 This  view spot is on the way into the park. It is a favorite of many of us for taking photos of the Gualala River and the Pacific Ocean. How fortunate for us that Peggy was there at the exact moment this rainbow appeared.
The Gualala River closed Sunday night and has since filled up. I will share some photos of that soon. It's a perfect time to go kayaking on the river.
Now we are having a heat wave. With no wind the ocean looks like a lake. Locals went diving for abalone today and tomorrow looks ideal too.
Thanks to Peggy for allowing me to share her photo with you here.