Bobcats are year round residents of the Mendonoma Coast. Mark Simkins and Kitty Wolfe have meadows near their Manchester home,  which gives them a great chance to see Bobcats.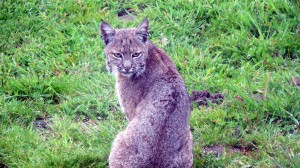 You can see gopher holes in Mark and Kitty's meadow and gophers are Bobcats favorite meal. You can clearly see the tufted ears of this Bobcat.
Thanks to Mark for allowing me to share his photo with you here. Now if Mark can just get me a photo of Bobcat kittens!