We share the Mendonoma Coast with Gray Foxes. Their kits are among the cutest critters around. Jim Garlock recently photographed this sweet scene near his home in Gualala where the Mother Fox was grooming her kit.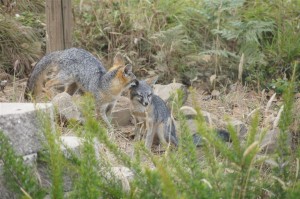 To see a photo of newborn Gray Fox Kits, here's the link: http://www.mendonomasightings.com/2011/06/02/gray-fox-kits-are-being-born-now-on-the-beautiful-mendonoma-coast/
Thanks to Jim for allowing me to share his photo with you here.